Outdoor Waterproof Linearray Speaker
Product origin:
GUANGZHOU,CHINA
Supply capacity:
300Pcs per week
Outdoor Waterproof Linearray Speaker
outdoor linearray Al-08 small and medium-sized high-frequency unit is suitable for the use of two Al-08 low-frequency units, The optimized unit combination mode and the design of high frequency Waveguide Horn throughout al series products make the Al-08 loudspeaker provide uniform 120 degree constant directional control in the horizontal direction, and show fast high-order attenuation characteristics in the vertical direction, which can effectively reduce the interference between adjacent modules after array combination
The al-08 loudspeaker is equipped with quick installation and hanging accessories. The combination and installation of the array can be easily and quickly completed by a single operator. The flexible collocation can be combined to form a long-distance projection line array, or it can be used as a point source only for sound reinforcement.
Application:
Al-08 has a good volume / sound pressure ratio, Al-08 speaker can also be used as a support for independent coverage requirements such as stage lip supplement and balcony supplement in sound reinforcement of theater, theater and multi-function hall. The lightweight appearance and weight of al-08 can be used for high-quality sound reinforcement in various occasions. The product can be widely used in small and medium-sized theater, school, auditorium, banquet hall, small live house, Al-08 low-frequency loudspeaker is used for low-frequency extension. Al-1808 low-frequency loudspeaker has the same width as al-08, and can be directly combined to realize array hanging or ground stacking.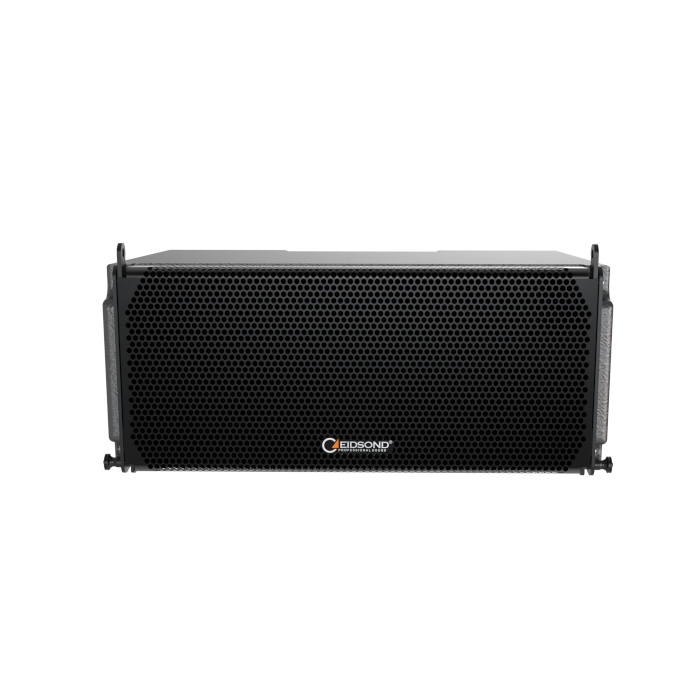 LOUDSPEAKER DATA



MODEL
AL-08
CONFIGURATION
High performance 2-way

passive line array loudspeaker

FREQUENCY RANGE(-10DB)
70-2.5kHz(LF)/1.2kHZ-20kHz(HF)
FREQUENCY RESPONSE

(±3DB)
80-2kHz(LF)/1.5kHZ-18kHz(HF)
RATED POWER
300W(LF)/90W(HF)
MAXIMUM POWER
1200W(LF)/360W(HF)
MAXIMUN SOUD PRESSURE
128dB(LF)/134dB(HF)
COMPONENTS
LF:2x8"
HF:2x1.73"

compression driver
CROSSOVER FREQUENCY
1.8kHz/24dB/octave
IMPEDANCE
16Ω(LF)/16Ω(HF)
NOMINAL DISPERSION ANGLE
100°x8°(HxV)
CONNECTIONS
2xNLT4 F/M ±1(LF) ±2(HF)
RIGGING
Three point rigging hardware




DIMENSIONS/WEIGHT



DIMENSIONS(HXWXD)
600 x 420 x278.3(mm)
WEIGHT
N.W: 27kg

R.W: 30kg
| | |
| --- | --- |
| LOUDSPEAKER DATA | |
| MODEL | AL-18 |
| CONFIGURATION | 1 way subwoofer system |
| FREQUENCY RANGE(-10DB) | 32Hz-300Hz |
| FREQUENCY RESPONSE (±3DB) | 38Hz-200Hz |
| DISPERSION ANGLE(-6DB) | - |
| RATED POWER | AES//600W |
| MAXIMUM POWER | 2400W |
| MAXIMUN SOUD PRESSURE | 132dB |
| COMPONENTS | 1x18" |
| LOW CUT FREQUENCY POINT | 32Hz/24dB/octave |
| IMPEDANCE | 8Ω |
| NOMINAL DISPERSION ANGLE | - |
| CONNECTIONS | ±1/LF&±2/LINK |
| RIGGING | 4 point rigging hardware |
| | |
| DIMENSIONS/WEIGHT | |
| DIMENSIONS(HXWXD) | 587x800x556(mm) |
| WEIGHT | N.W: 49kg |